RAFT a rock opera
Written by Okanagan based indie recording artists Pat Brown and Randall Robinson, Raft of the Medusa, the musical, created an incredible buzz after premiering to great fanfare.  Re-branded RAFT a rock opera, a nod to the dramatic yet melodic roots of the show's progressive rock music, RAFT was recently a crowd favourite at Theatre BC's O-Zone theatre festival in Salmon Arm where the show was awarded "Best Musical Ensemble", "Best Musical Direction", and "Best Costumes.
The Story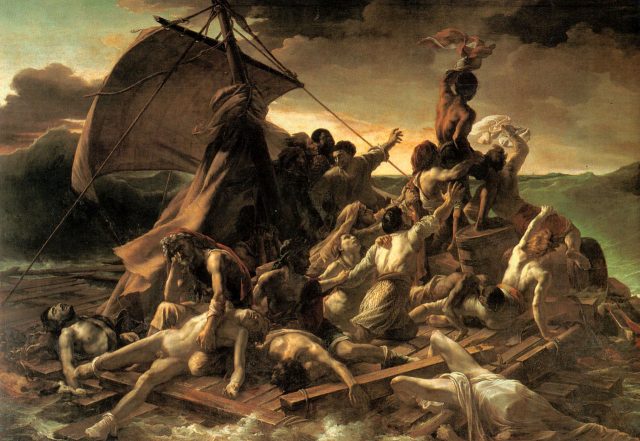 In 1816 four ships set sail from France en route to the African province of Senegal. The flagship was the frigate Medusa. On board, an unlikely mix of English soldiers, French sailors, civilian passengers, and their newly appointed governor. She never made port.
Due to the incompetence of her arrogant captain, the Medusa ran aground. Of the 400 complement, 151 souls were set adrift on a makeshift raft without food or water. Condemned, as it would turn out, to unthinkable depravity and suffering.
Two years after the shipwreck Theodore Gericault, an aspiring French painter, read the true account of this tragedy. Before long his fascination with this narrative turned to obsession.
Haunted by the horrors that befell those on the raft, Gericault was compelled to embark on his most challenging work: Le Radeau De La Meduse… The Raft of the Medusa.
Based on a true story as documented by Medusa's surgeon Dr. Henry Savigny, Raft masterfully blends theatrical rock music to tell the tale of this harrowing event.
What People Said
"Must see Rock Musical! Worthy of international status and awards because of its buoyancy for the masses."  – Kelowna Daly Courier
"Theatre patrons were collectively on their feet before the stage curtain even had a chance to drop.  Raft of the Medusa could well be one of the most powerful, impressive and brilliant artistic stage creations to ever come out of Canada." – Kelowna Capital News
"Amazing music, haunting story, an emotional roller coaster! Loved every minute of it."
"Thank you for sharing this with the world!"
"Living in Toronto I have seen a lot of live theatre. Raft of the Medusa was just as amazing. Almost surreal that this musical was homegrown in Kelowna. It will definitely go places."
"Absolutely astounding! Congratulations.
"Went to the opening of Raft of the Medusa. What a fantastic play. We have seen a few plays on Broadway and this was their equal."
"Raft of the Medusa was exquisite. Bravo!"
"Truly a fantastic rock musical!"
"It was a fantastic journey from start to finish!!! The music, story, acting, singing, band, sets and costumes were all amazing!"
"Phenomenal Show! So Great!"
"Chills from beginning to end! What a rollercoaster."
"I was blown away!! Epic story epic music!"

"Went and saw Raft of the Medusa last night.   Awesome stage show. All I can say is wow! Just wow! 10/10!"
"It was an AMAZING show!"
"It's an awesome show. The story and music are captivating!"
"What a professional production in all areas. Enjoyed it immensely. Fabulous acting, singing and musicians. WOW! If you haven't been do go to see this next weekend."
"I absolutely loved the show especially the music. All stand out songs for me."
"In the final scene, the cast interpreted the utter exhaustion, weariness and agony of the artist's rendering. This was a special climax. The audience rose in mass to spontaneously and thunderously applaud the performance."
"Saw the show Friday. AMAZING. Loved all the performances…loved your singing!!! So much passion!!! Bravo!!!
"Awesome production! Would love to see it again!!!
For more info please email us at: info@raftofthemedusamusical.com